Registry
The Cancer Registry of Niger was founded in 1992, in the Faculte des Sciences de la Sante of the University of Niamey. It is located in the Department of Pathology at the University Hospital. This department is a referral centre for pathology services for the whole country. Nevertheless, the registry was designed to be population based with complete recording of all cancer cases diagnosed among the population of the capital city, Niamey. Niger comprises eight administrative subdivisions, three in the capital city. In 1995 the population of Niamey was estimated to be 521,000.
Pr NOUHOU Hassan
Chef du laboratoire d'anatomie et cytologie pathologiques
Laboratoire d'anatomie et cytologie pathologiques
Faculté des Sciences de la Santé
B.P.: 10896 Niamey, NIGER
Tél.: (bureau): +2272 20 31 57 27 / 20 31 57 30;
fax:+227 20 31 57 30
E-mail: This email address is being protected from spambots. You need JavaScript enabled to view it.
Sources of information Data Management
Case finding was carried out by a cancer registry clerk during the first six years of operation and later by medical students as well, through active searching for cases in the hospital services in the city where cancer might be diagnosed. These include, especially, the National Hospital, the University Hospital and the main maternity hospital. Visits are made to the major services (surgery, urology, medicine, gynaecology, paediatrics and biology laboratory) once every two weeks, and the charge nurses are encouraged to make a note of cancer cases admitted, which can be collected by the registrar. Otherwise, the clerk examines sources such as the ward admission books, consultation registers, medical records in the departments (though information is often missing from this source) to obtain details of cancer cases, their diagnosis and place of residence. Other clinics visited include maternal and child health clinics and occassionally some private clinics with clinicians to collect biopsies An important source of information is the department of pathology, which provides histopathology and cytology services for the whole country. Although some specimens are sent out of the country, the registry receives copies of reports of all cancer cases diagnosed by the pathology services in the city, including biochemical tests such as human chorionic gonadotrophin (HCG), prostate-specific antigen (PSA) and alpha-foetoprotein.
Since no cause of death is recorded on death certificates in Niger, they cannot be used for cancer registration.
The definition of 'usual resident' of Niamey is six months' residence in the city. The registration process is carried out with a microcomputer using the CANREG-4 software.
Result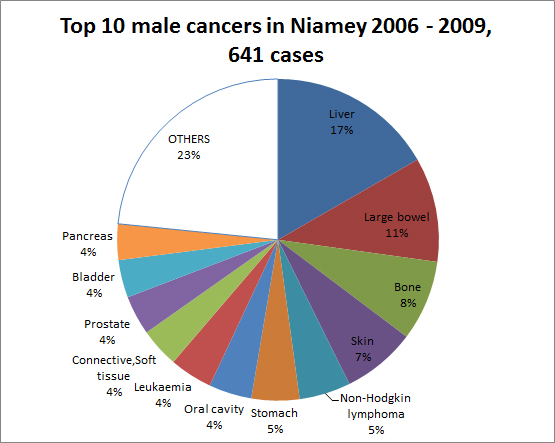 Publication
Registre des cancers du Niger Données d'enregistrement de 19 ans de fonctionnement (1992-2010) NOUHOU H ; MAHAMADOU H ; ZAKI H ; DJIBO H.